Years after The Catastrophe, the world is starting to rebuild itself. The gods still appear to be gone, and magic is…askew, at best, but people are starting to venture off into the wilderness to rebuild again, looking for supplies or for relics they can rescue.
The generally tame landscape of Den has become a lot more dangerous. Creatures and monsters have take over without the interference of people. Old towns and cities are overgrown with new wild flora.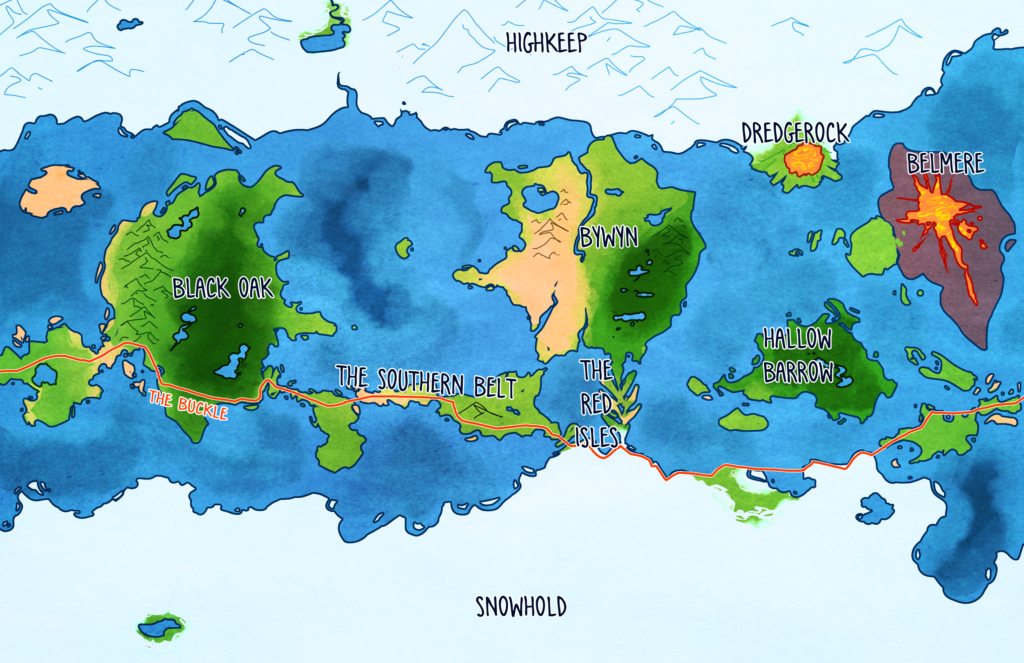 Belmere
Black Oak
Bywyn
Dredgerock
Fin
Hallow Barrow
Highkeep
Red Isles
Southern Belt
Snowhold
Nowhere
Belmere


A large sandbar that has an everchanging coastline. Extremely dangerous Large beasts roam the island, making exploration difficult, and living on the island near impossible at this point.  Not to mention the large fissures that lead into pits of lava — if this is the result of a volcano, it is unsure if it is active or dormant. 
The former floating island of Renaissance had fallen into the coastline of Belmere, and people often attempt to reach it to find the libraries and magic items that were once on Renaissance. However, few are heard from again, as the monsters have take up occupancy in the ruins of the island. 
People who were originally from Belmere are often recognizable by their bright red hair. 
Climate: Hot and Humid with cold nights. Typically fairly windy, and often storms in spring and fall months. 
People: Few, if any, people live are know to live on Belmere anymore. People born on the island tend to have bright red hair, normally regardless of if their parents have it or not. 
Symbol: A black snake with red eyes, often coiled around a Kris-styled Dagger
Black Oak
Bywyn
Dredgerock
Fin
Hallow Barrow
Highkeep
Red Isles
Southern Belt
Snowhold
Nowhere
Old Gods
The old gods, creators of the world. They haven't been seen in a long time. Thought to have either died during [event] or have given up on this world and abandoned it. Some people however still think that they will return.  
There were once other gods, people who had attained godhood in their life through power or following, but none have been seen since the disaster. Figured to be dead, or have lost their power, much information of them has been lost or forgotten. 
Speis
Neutral
Balance | Foresight | Hard Work

A dark skinned feminine, humanoid figure, long hair in dread. Red eyes, with a third, typically closed, eye on their forehead.
The "Mother Earth" type figure. Noted as the person who physically formed the Earth, but then delegated fleshing out the world to the other Gods as they best saw fit. Generally seen as like. "God."
Rena
Chaotic Good
Strength | Assertiveness | Change | Rebirth

A large burnt red dragon with no wings. They have a trail of feathers along their back and make the appearance of flames.
Lives deep in dormant volcanoes. Known to take care of deserts and islands, keeping enough land in the world for the population.
Flux
Neutral Good
Flow | Acceptance | Inquisitiveness | Sharing

A deep blue whale shark, its fins and tail seeming to fade into the water. They are covered with seaweed and algae.
Lives deep in the ocean and is rarely seen above the water. Known to take care of the tides and all the sea life.
Ona
Neutral
Status | Honor | Order | Intellect

A light yellow-golden bird with the legs and neck of a Heron, but most physical appearance of a swan. They have a large wingspan.
Rarely seen. Known to manage the winds and all the life that has flight.
Hava
Neutral Good
Protection | Nature | Preservation | Community

An overly large stag, its antlers making up the appearance of tree branches. A layer of moss, grass, and flowers cover their back.
Lives deep in forests. Known to take care of plant life, covering the world with greenery.
this is pretty lose and brief and im sure other things happen too but,