It's a fairly young world, and within a couple hundred years magic was reintroduced into the world.
i need to redo the map because some of the countinents are larger there is so much water right now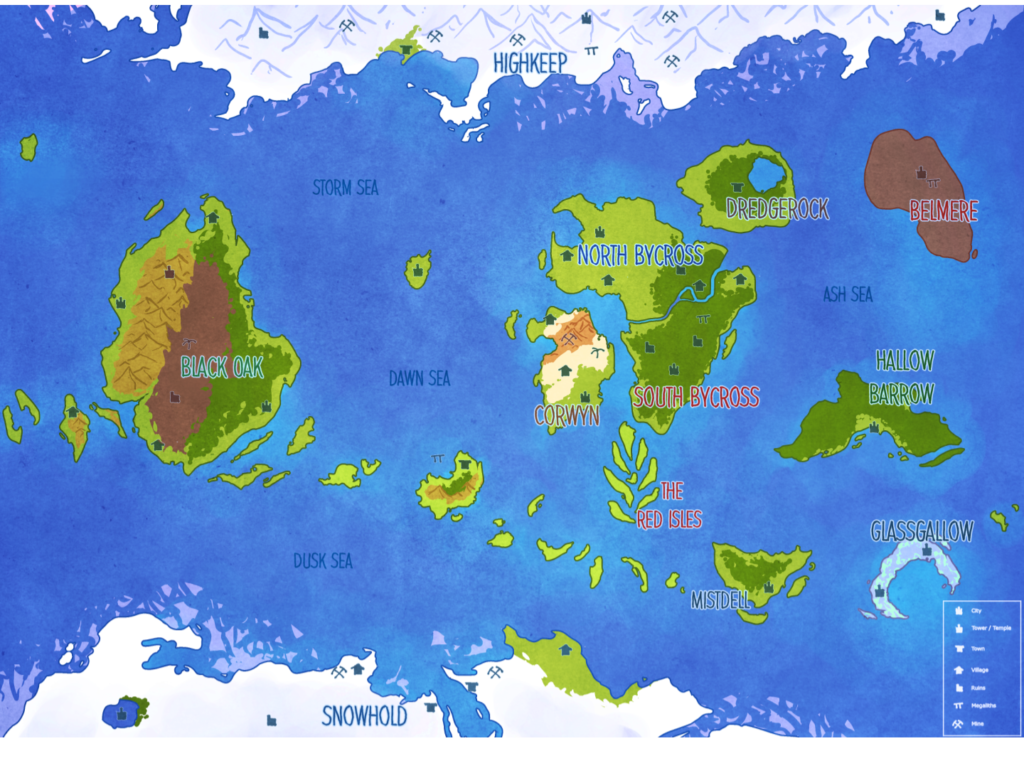 Belmere
Black Oak
Bycross
Corwyn
Dredgerock
Fin
Glass Gallow
Hallow Barrow
Highkeep
Red Isles
Renaissance
Southern Belt
Snowhold
Nowhere
Belmere


Essentially a large sand sandbar that is constantly reshaped and changing, consisting entirely of black sand. Not largely inhabited by people, but there are known to be dragons and large monsters that reside only on the island. Many adventurers come there to fight the beasts or to search for treasures rumored to be there. Unclear of why they're only here, or where they're coming from. 
There are a few bands of people who make Belmere their permanent residence, mostly a handful of dragonborn as well as a few elves. Natives are most easily recognized by their bright red hair or scales, which isn't really found in many other places. 
The people that live here are largely nomadic, traveling in groups and adjusting to their changing environment. They often live more toward the center of the island, since they don't have to worry about the tide effecting their living over night. 
Government: No real government present. Different groups tend to have their own rules and way or leading. 
Climate: Hot and Humid with cool nights. Typically fairly windy, and often storms in spring and fall months. 
Clothing: Blacks and reds. Loose fabric, head coverings and shawls. Ways to keep sand out of their face. Big fans of golds, gems, and jewelry. 
People: Dragonborn, Orc/Halforcs and Elves are the majority. Other races often travel there as adventurers. People born on the island tend to have bright red hair, normally regardless of if their parents have it or not. 
Exports: Pelts, horns, and other things from the beasts on Belmere. Really good for alchemy and potions. 
Magic: Pretty common!! Natives typically seem inclined to knowing magic or it being easy to learn for them. 
Symbol: A black snake with red eyes, often coiled around a Kris-styled Dagger
Black Oak
Bycross
Corwyn
Dredgerock
Fin
Glass Gallow
Hallow Barrow
Highkeep
Red Isles
Renaissance
Southern Belt
Snowhold
Nowhere
Good
Neutral
Evil
Old Gods
Good
Juneberry
Lawful Good | Half-Orc
Healing | Life | Kindness

A pacifist traveling the world, willing to help any in need. Always looking forward to the greater good, and trying to see the good in people. Speaks very calmly and friendly. Came to diety status through a large following. She teachs her beliefs where she goes, and her followers then teach others etc. Originally from Dedgerock.
Kale
Neutral Good | Elf
Stars | Travel | Sea

A sailor who travels the sea by stars. Values knowing all parts of the world and being able to be immersed in the world. Eager and restless. Has traveled the whole sea, and has walked every coast. Originally from Mistdell.
Sun
Chaotic Good | Elf
Adventure | Experience | Change

Firey and never looking back. Always looking for grand adventures and epic quests! Believes very strongly in learning with your hands and not through written means. Oral traditions and campfire stories. Married to Helena. Sun and Helena rose to diety status having protected Forene, a large town on the outskirts of Corwyn, against a small but very powerful band of lichs. Originally from the Red Isles.
Neutral
Evil
Old Gods
this is pretty lose and brief and im sure other things happen too but,